2022.06.03
Thank You for Visiting Us (THERMOTEC 2022)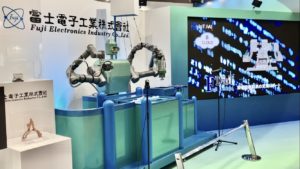 Thank you very much for stopping by our booth from June 1-3.
Thanks to all of you, the exhibition was a great success.
We will be posting information on our website about our FD-ioT hardening equipment on display at the exhibition.
FD-ioT | 高周波焼入のリーディングカンパニー | 富士電子工業株式会社 (fujidenshi.co.jp)
Please feel free to contact us if you have any questions or comments about the information at our booth.
We will present next at JIMTOF2022, the 31st Japan International Machine Tool Fair, to be held this November.
We look forward to seeing you there, as well!