Quality Assurance Management System
At Fuji Denshi, we provide quality assurance through extensive measurement, data collection, and analysis based on our experience in prototype development, in-house hardening, and machine manufacturing.
Data Analysis
Our data report includes hardness distribution, heat and temperature distribution, and structure photograph together with our analysis based on structural composition and heating simulation.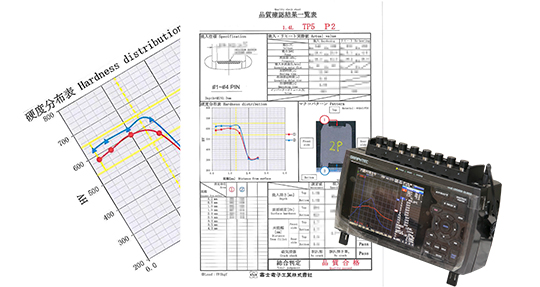 Measurement Devices
State-of-the-art devices inspected regularly to assure precision.
Metal Analyzer

Used especially for carbon content measurement and confirmation of hardening quality for each material.

Digital Microscope

Full-focus resolution produces clear structure photographs in a short time and allows measurement of graphite spheroidized ratio and grain size.

Residual Stress X-Ray Meter

Measures residual stress at areas such as crankshaft fillets and gear bottoms. Using the smallest and lightest model in the world, we can analyze large works of inner diameter up to 170mm.

3D Scanner

The software converts the target object to 3D data with an accuracy of 0.01 mm, making possible 3D measurement, cross sections, geometric tolerance, and direct comparison measurement with the master model, even with complex shapes.

Other

3D Measurement
3D Printer
Magnetic Particle Tester
Rockwell Hardness Tester
Vickers Hardness Tester, etc.